Welcome to Vienna's traditional company DAS SAFE situated in 1080 Vienna
Thank you for your interest in our safe rental company in Vienna's 8th district "Josefstadt". We are happy to present to you our services for the secure storage of your valuables or data. The non-anonymous safes are located in a high-security building – 1,000 tonnes of reinforced concrete surround the vault, and the entire site is under surveillance day and night. This is a very spacious, open location, further contributing to its security. Our services are varied and include everything from safe boxes to meetings for your office – a well-thought-through, well-functioning security offer.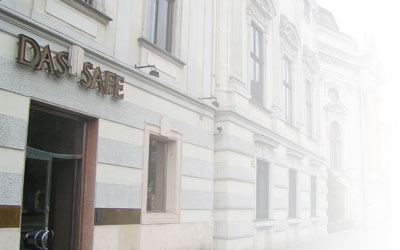 Discreet and transparent – what we offer
Our aim: Your right to discretion and privacy!
DAS SAFE is a very traditional and conservative, family-run business which specialises in the security of your valuables, data, and negotiations. Since 1984, we have been taking care of the security of your prized possessions – from jewellery and documents to coins or data media – offering you safe boxes of the highest security to rent. Our employees are excellently trained, trustworthy, and unfailingly discreet – because your privacy is our priority!
We would very be happy to welcome you personally so that you can see for yourself what we have to offer. DAS SAFE is located in the Palais Auersperg, close to the Parliament, in a very pleasant area in the centre of beautiful Vienna. We attach great importance to a conservative environment and have therefore designed our premises to be both luxurious and inviting. You will feel at ease as soon as you step inside, we promise!
Your DAS SAFE TEAM, in 1080 Vienna